Annette Mazzone - Adelaide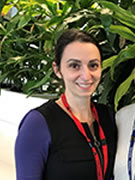 Annette completed a Bachelor of Science with Honours in 1999 and commenced formal training as a clinical perfusionist at Flinders Medical Centre in 2000, gaining her Certificate in Clinical Perfusion in 2004.   Annette took the opportunity to further develop her clinical skills in adult perfusion and ECMO working at the Royal Adelaide Hospital (2004-2012) before returning to Flinders Medical Centre in 2014.  Upon returning to FMC, Annette commenced a PhD part-time, researching the role of microRNA levels, hypoxia and cardiopulmonary bypass in the development of acute kidney injury.  In March 2020 Annette was awarded her PhD. 
Throughout her career Annette has been actively involved in research, being awarded the Best Scientific Presentation at the ANZCP ASM in 2016 and the Encouragement Award at the ANZCP ASM in 2017.  During her PhD candidature Annette was a university finalist in the 3 minute thesis competition and received a post-doctoral award for her research. 
Annette is involved in the education of other disciplines including anaesthetic registrars and nursing staff and has completed 3 volunteer missions to Fiji with the aid organisation Open Heart International.  Annette is passionate about perfusion education and enjoys being a member of the board and being involved in the development of the course for future trainees.