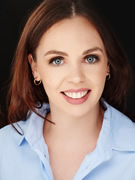 Casey completed a Bachelor of Medical Science in 2013 and a Certificate of Clinical Perfusion in 2017. After three years developing her skills in adult cardiac surgery at The Canberra Hospital, Casey has joined the team at Westmead Children's Hospital to continue her career in paediatric cardiac surgery.
Casey was awarded 'Best Gazette Submission' by the Australian and New Zealand College of Perfusionists (ANZCP) in 2015, and with it, a two-week placement with the Open Heart International surgical volunteer group which does cardiac charity work in developing countries. She has a particular interest in pursuing scientific research. She presented at the 2017 Canberra Health Annual Research Meeting; at the 2017 ANZCP Annual Scientific Meeting (where she was awarded the 'Sid Yarrow Award' for the best student presentation); and at the 2017 European Congress on Extracorporeal Circulation Technology Conference in France (where she was awarded 'Best New Presenter'). Apart from being on the Australian Board of Cardiovascular Perfusion, Casey is also proudly involved in running the ANZCP's Autotransfusion course.
Casey strongly believes in giving back to the wider community and regularly speaks at universities, charities and local events as well as involving herself in a national mentoring program for regional female secondary school students. She was honoured to deliver the keynote address at the closing ceremony for the National Youth Science Forum in 2018.