Objectives

PIRS Form

PIRS Reports

PIRS News
Objectives
PIRS is the on-line Perfusion Incident Reporting System for the Australia, New Zealand and the wider international perfusion community. It is a voluntary system, to report perfusion related incidents and accidents established by the Australia and New Zealand College of Perfusionists. Confidentiality is assured by de-identification and anonymity of reports within 72 hours of submission. The 72 hour window is to allow questions to be asked of the reporter where detail of the event is unclear to the PIRS editor.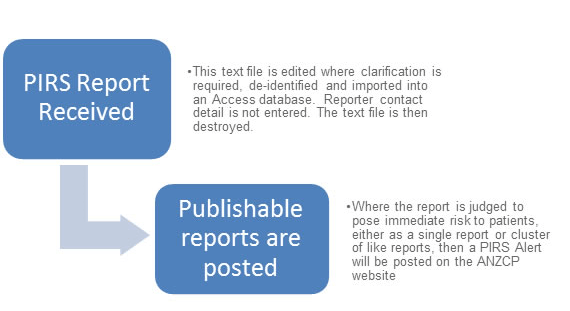 De-identified PIRS reports details may only be published on the PIRS pages of the ANZCP website or in the ANZCP Gazette if permission to publish is given in the report form.
PIRS data will not be passed to any third party or regulatory body including the ANZCP or Registration authorities. Forwarding any information is the responsibility of the reporter.